Kirch Appliance
Your Neighborhood Appliance Store
Kirch Appliance Inc. is a local family owned business. We sell quality reconditioned appliances that are professionally serviced, tested and cleaned.
We also offer appliance repair. Give us a call and one of our experienced, factory-trained appliance repair technicians will visit your home to diagnose your broken appliance.  Many calls can be completed on the first visit!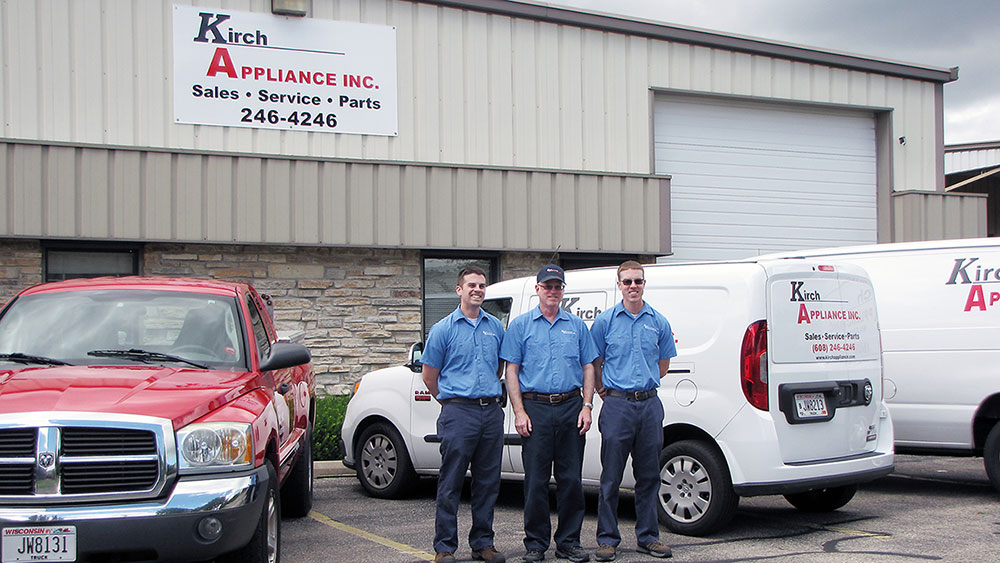 Prompt, Reliable Service at a Price You Can Appreciate
Kirch Appliance Inc is a third generation, family owned company. Originally located on Water Street in Prairie Du Sac, Wisconsin in the 60's and eventually moving to various locations in Madison, Wisconsin for the past 30 years.
At Kirch Appliance we do fast reliable repairs at very reasonable rates. Our service technicians are professional and treat you like they like to be treated. Prompt, reliable service at a price you can appreciate. We look forward to hearing from you today!
A serviceman came to our home to inspect our oven. The problem was fixed within 15 minutes and he left the space very clean. We are very appreciative of their service and we will certainly call them again!
I recently bought a used washer and dryer from Kirch and am very pleased. If buying new is too expensive and you don't trust Craigslist, go to Kirch. Great value, comes with a warranty, and really helpful service.
I have been a Kirch Appliance customer for more than 30 years, My latest experience was of the same excellent customer service and ethics that has kept them as my go to appliance repair company.
Visit our store at: 
2302 Mustang Way
Madison, WI
53718
Phone: (608) 246-4246
Email: 
[email protected]
Fax: (608) 661-3106
Monday: 8:00am - 5:00pm
Tuesday: 8:00am - 5:00pm
Wednesday: 8:00am - 5:00pm
Thursday: 8:00am - 5:00pm
Friday: 8:00am - 5:00pm
Saturday: CLOSED
Sunday: CLOSED